Emerald Estate Farms and Jade Mountain's Chocolate Sensory Experience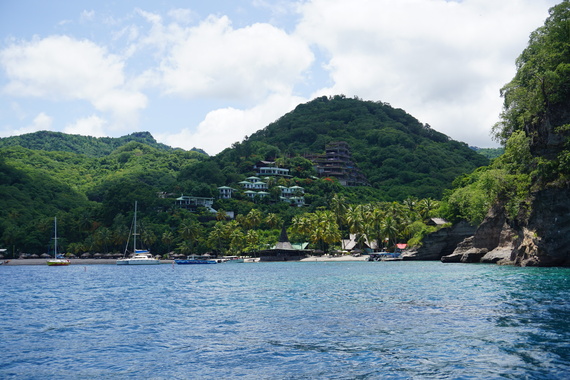 About:
No other place encompasses the philosophy of 'farm to table' more than
Emerald Estates
. Started in 2007 by owners of
Jade Mountain
and
Anse Chastanet
resorts, Nick Troubezkoy his wife Karolin had the forward-thinking idea of owning an organic farm that could support the ingredient needs of the kitchen.
Today, the 40 acres of farmland grows an astonishing amount of food that include mangoes, sugarcane, eggplant, buckwheat, lovage, green beans, cilantro, amaranth, Malabar spinach, cocoa, and countless more. Each year, the farm grows enough to supply 70% of food for both resorts.
Notable:
Guests who stay at the resort will be allowed to tour the farm and see where their food comes from. Martin Joseph, the 'local boy' farmhand, will show guests around the property, highlight crop varieties, and answer questions.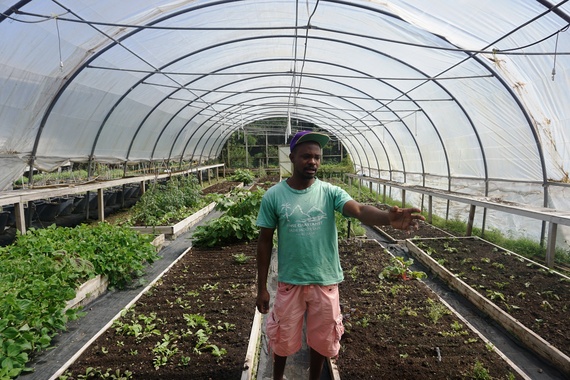 If you're lucky, you'll have an opportunity to meet horticulturist and scientist Pawan Srivastava, who will happily delve into the specifics of cocoa with you.
He explains: "There are 3 types of cocoa in the world: Forastero – which creates what Pawan describes as 'your generic Cadbury and Hershey chocolates', Criollo – which creates premium Swiss and Belgian chocolate, and Trinitario (a cross between Criollo and Forastero)- which is grown at Emerald Estate."
There are 1000 cocoa trees on the property with two harvesting seasons, Sept – Oct & May- June. There are 45 pods per tree and 1 pod = 1 chocolate bar. That is a total of 90,000 bars per year. But it isn't enough. Demand has been so great that they've had to plant 500 more trees and also buy cocoa beans from local farmers.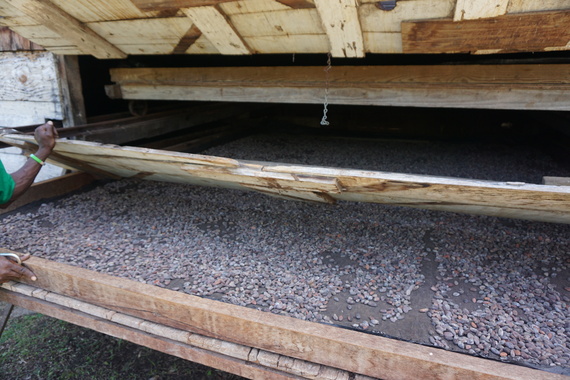 Fun facts from Pawan:
Cocoa trees with labels are called ICS (Imperial College Selections). They are clones and numbered to identify the breed and what type of cocoa bean it grows.
The cocoa bean is "the most intelligent of plant species" and defies plant laws. They exhibit cauliflory and have no discernable flowering pattern. Once flowers are pollinated, they transform into pods.
There are 30,000 differences in genes between cocoa beans and humans.
Cocoa plants can live for 200 years.
Fermentation occurs naturally; once the beans are harvested, they're put in a box together for a week.
The beans separate from the white pulp (cocoa juice) and they're dried in the open sun.
This 'cocoa juice' is very acidic and it is used by locals for cooking.
Not-to-Miss activities at the Chocolate Lab: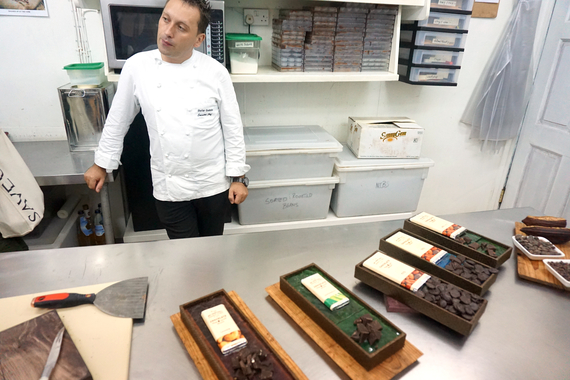 Stefan Goehcke, Executive Chef at Jade Mountain, has been producing chocolate with the resort for 2 ½ years. With chef, you'll have an intimate 'Chocolate Discovery' experience that lasts one hour. In addition to plenty of tastings, participants will learn how to temper chocolate and make truffles alongside chef. Also offered on site are the chocolate and wine tastings at the restaurant –
Jade Mountain Club
.
Souvenirs for friends and family:
The range of Nick Troubetzkoy's Emerald Estate Chocolate Bars (60%-92% cocoa solids).
I personally recommend 92% Cocoa and Chipotle 70% Cocoa.
Source: http://www.huffingtonpost.ca/tiffany-leigh/the-island-of-chocolate_b_11528726.html